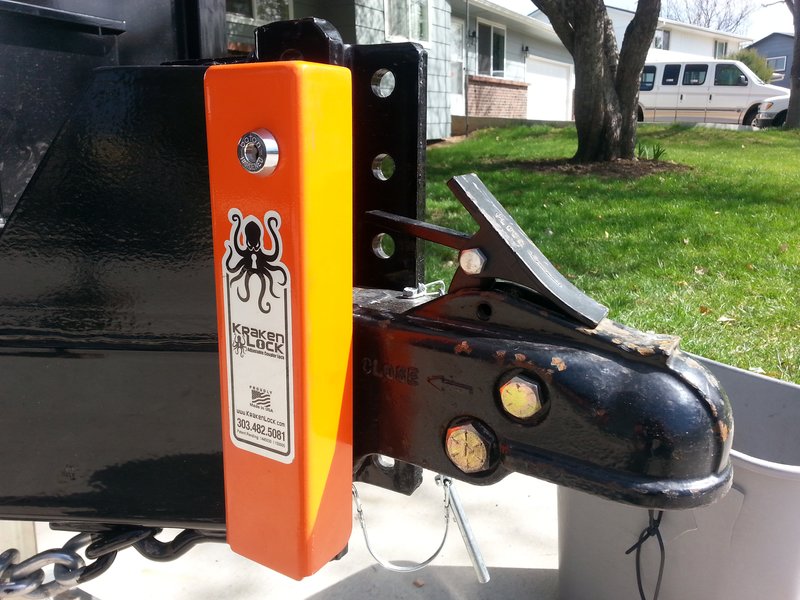 Kraken lock replaces the standard unsecured adjustable trailer coupler bolts with a heavy duty bolt plate and steel locking box mechanism, preventing theft of trailer!!!  Kraken Lock is the only product on the market that secures the adjustable coupler bolts, order yours today! 

Don't let your trailer get easily stolen!!! The Kraken Lock protects your adjustable coupler trailer so someone cannot remove the two bolts that hold the coupler piece to the trailer (most of us only lock up where the ball or pintle attaches to truck).  A thief can bring their own coupler and with only removing these two bolts they can take off with your dump trailer or equipment / car trailer (with your skid steer, generator, boat, automobiles, tools or other very expensive equipment on it!!)
Thick, high strength steel box and an impenetrable Abloy style locking mechanism closes over a grade 8 bolt plate thus quickly and easily replacing existing coupler bolts to prevent theft.  Fits any trailer with an adjustable coupler C-channel type tongue hitch (fits both the 6 hole and smaller 4 hole c-channel adjustable couplers).  Then entire unit is powder coated to stand up to the toughest environments. 
Made in the USA !!!, Kraken Lock is proudly manufactured and assembled entirely in the USA. "There's no hacking a Kraken!"
        WRAP A KRAKEN LOCK AROUND YOUR TRAILER TODAY !!!!!