Every year, approximately 300,000 new trailers are built in the U.S and more and more of these trailers are coming with the adjustable coupler type hitches, most trailers are sold with little or no security protection.  Trailer and cargo thefts represent millions of dollars in losses of personal and business assets, not to mention the lost time, money and job productivity when using trailer for your business and that feeling you get from being the target of a thief.  
According to law enforcement agencies, trailer theft occurs most frequently when the trailer is not attached to it's towing vehicle and is parked by the roadside, in commercial parking lots, at businesses, in home driveways/street and other open areas.  Additionally, law enforcement studies have shown that trailer locks that are harder or more time consuming to access greatly reduce the chance of theft.  
** Kraken Lock is only available for sale in the United States, I cannot process sales or shipments to countries outside the USA
**  The Kraken Lock fits any adjustable coupler type trailer, instantly providing another level of protection against a huge vulnerability to the adjustable coupler design.  There is no other lock out there that protects this area of your trailer, period!!

** Free shipping is done by USPS Priority ground, I ship the same day in most cases (order before 1pm Mountain time for same day, otherwise goes out next business day) and orders are normally delivered within 2-5 business days depending on delivery location. 
**  We only offer the Kraken Lock in bright orange which makes the Kraken more visible and helps ward off theft by making thieves think twice before even approaching the protected trailer.  Most thieves are looking for a quick and easy heist and are less willing to spend the time and effort making a bunch of noise trying to remove locks when they can find another trailer that's unprotected and less risky to take. 
**  Key won't turn? The Baton lock cylinder has 6 cams inside lock cylinder and these cams will move around during normal use on your trailer. If your key does not want to turn you will need to use key to wiggle these cams back into alignment so key can be fully inserted otherwise you may only be engaging 4 or 5 cams and the key will not turn locking cam.  
** I have recently updated the locking cylinder to a 10-pin tubular lock that I feel is a better choice and does not compromise locking security, these 10 pin locks have an anti drill core and still offer unduplicatable key control features with a more user friendly style lock. 
**  The Kraken Lock box is 10 inches long which secures both the longer 6 bolt hole type adjustable couplers and the shorter 4 bolt hole type coupler (will hang off either top or bottom of 4-hole couplers approximately 2 1/2 inches, and will not expose any holes on back of the lock) Reason it's long is so on the full length type couplers it covers all the bolt holes so someone cannot install another coupler under or above your current coupler and still take your trailer! 
**  Kraken Lock will fit most I-beam frame type trailers but box may need to be angled slightly top to bottom so can mount without needing to notch the I-beam frame of trailer (see pics for an extreme example showing fitment)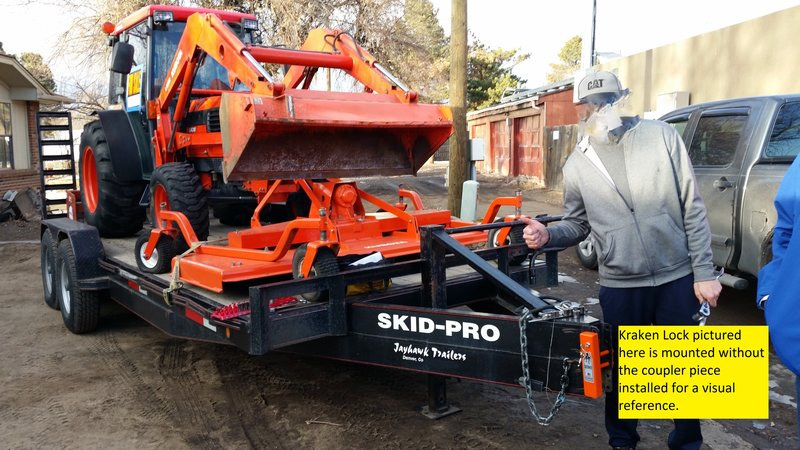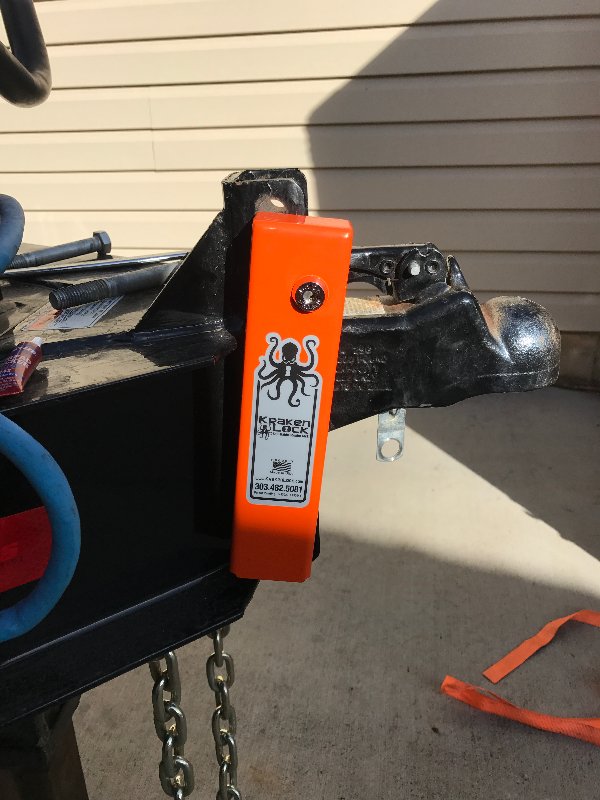 Kraken Lock installed at an angle to fit on an I-beam framed trailer, has to be angled slightly to clear I beam without having to grind trailer's frame.